---
The Journal of the Canadian Orchid Congress
Le Journal de la Fédération Canadienne des Sociétés Orchidophiles
---
news
---
May 1998 - The Atlantic Canada Issue
Volume 10 - Number 1
---
Editor: Malcolm Adams
---
Contents
---
1998 Canadian Orchid Congress Update
You are invited to attend Orchidfete 1998 and the Canadian Orchid Congress hosted by the Eastern Canada Orchid Society at the Radisson Hotel des Gouverneurs in downtown Montreal, October 16 to 18, 1998.
Come to Montreal this Fall for a great weekend of orchids, sight- seeing and shopping. Listen to some interesting lectures given by orchid experts. Enjoy fine cuisine, Old Montr6al the Jardin Bo- tanique, the Biod6me, the 'Underground City', theatres and much more.
The programme for the weekend will include the show and sales, lectures by Dr. Ben Berliner, Ken Girard, Cordeha Head, Yves Aubry and another speaker to replace Russel Hutton who is no longer com- ing to Canada. Plus, The COC banquet, (a five-course gourmet meeal), the COC Annual General Meeting and the COC Auction. We are expecting a great variety of orchid vendors who will have a tre- menous selection of sales material from Canada, the USA and Eng- land.
Early Congress Registration until September 4, 1998. See your COC rep. who should have registration information or contact the Registrar, Malcolm Adams, phone/fax: (514) 467-4795 or email: malcolm.adams@sympatico.ca
Conservation Poster Display at the 1999 W.O.C.
by Paula Keeler

I am coordinating the conservation display at the 1999 W.O.C. The posters will be displayed and staged on freestanding units, some fixed, some with wheels for moving about. Posters displayed should be in the standard 28" x 44' poster board format. However if some groups would like to do a larger display they can contact me 6 months IN ADVANCE to make special display arrangements. No advance warning and we may not be able to accomodate the submissions. The posters will be attached to the standing units with velcro fasteners, which we will supply.

The posters will be on permanent display throughout the duration of the conference. We will also have prizes awarded for the best presentation indifferent categories.

Share with the world your vision, idea, or present orchid conservation program at the 1999 W.O.C. in Vancouver, B.C.

Paula Keeler, 1611 North State St.
Bellingham, Washington 98225 U.S.A.
(360) 715-9010 work, (360) 715-9005 fax (360)
671-7559 home, email: lkpk@pacificrim.net
---
THE HOOKERS OF KEW
The Royal Botanic Gardens, Kew, is situated on the banks of the River Thames between Richmond and Kew in southwest London. In 1759, Augusta, Dowager Princess of Wales and mother of George III donated about 3.5 hectares of her Kew estate as a botanic garden, and ordered collections of plants to be assembled primarily for scientific and educational purposes.
A year later, George III inherited the Richmond Estate from his grandfather and twelve years later took over the Kew Estate when his mother died. Sir Joseph Banks became unofficial director and the subsequent fame of the botanic gardens is largely due to him. Under his direction collectors went all over the world in search of plants of economic, scientific or horticultural interest.
When Carl Linnaeus (the inventor of the system of naming plants which established nomenclature once and for all) died his herbarium came up for sale and Sir Joseph Banks tried to buy it but some misunderstanding occurred between him and Linaeus' son and a Dr. James Smith ended up purchasing the herbarium in 1784. Dr. Smith made the herbarium available to the public and in 1805 William Hooker came to consult the Linnaeus treasure.
The Hookers were wealthy merchants in Norwich, England and were interested in botany, particularly succulents and exotics, and William was most interested in mosses. The family business began to fail and William needed to find another source of income. Sir Joseph Banks got a professorial job for him in Glasgow. Hooker worked at the Glasgow Garden until 1841 and increased its plant species from 8,000 to 20,000 and botanists from all over Europe came to visit it. In 1836 he was knighted for his works.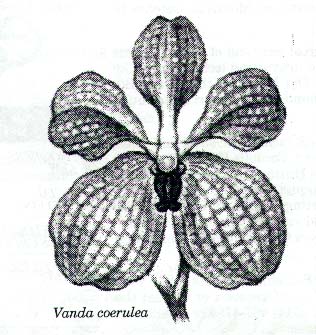 William Hooker travelled to Scotland and Iceland collecting and studying plants, and began writing books on botany. John Lindley who was a young man hoping to travel abroad to collect plants came to visit Hooker and people sent plants to him that they had collected. One such plant, which came from Brazil, flowered for Hooker and it is outstandingly featured in Hookers work on The Exotic Flora, which was serialised between 1823 and 1827. The plant was Cattleya labiata, named by John Lindley in honour of William Cattley.
In 1840, the Royal family donated additional areas of surrounding land thereby extending the size of the Gardens to 81 hectares. The following year, Sir William Hooker was appointed as the first official director. He established the Museums and Department of Economic Botany in 1847 and the Herbarium and Library in 1852. The Palm House was finished in 1848 and in 1860 construction began on the Temperate House.
In the meantime, one of Sir William's sons, Joseph, had been making a name for himself as a botanist and was on an expedition with Sir John Ross to the South Pole and sent plants back to Kew in Wards cases. After the voyage Joseph published the 'Flora Antarctica'.
In 1850 Joseph Hooker set off with Lord Dalhousie to explore Tibet and the Himalayas. In his Himalayan Journals, he described the area: The heat, humidity and shelter of the forest was a natural incubator for all kinds of pests. The soil swarmed with enormous earthworms, the bushes with large and troublesome ants. He also complained about the leeches he encountered. He described climbing plants that scaled the gigantic trees or joined limb to limb with huge cables, and 'parasitical orchids jewelled the trunks'. He wrote that 'I have a set of the most curious plants from between 17 and 19 thousand feet'.
In gardens today from the highlands of Scotland south to Cornwall, there are rhododendrons which sprang from the original seeds sent to Kew by Joseph Hooker more than a century ago. In the Khasia hills of Assam, he collected 'seven mens loads' of Vanda coerulea - He described the vandas growing in profusion, waving their pale blue tassels in the wind, and he likened them to the flutterings of thousands of azure butterflies. Unfortunately only a few plants reached England alive. The blue orchid became such a craze that Assam and Burma had to prohibit its export. Hooker once commented that 'England was the graveyard of tropical orchids'.
In 1855 Joseph Hooker was appointed Assistant Director to his father at Kew. He and Charles Darwin became good friends and Darwin wrote in 1862 about Hooker - 'For years I have looked to you as the man whose opinion I have valued more on any scientifle subject than anyone else in the world'.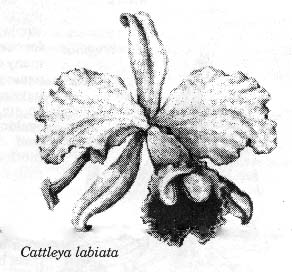 In 1866, Joseph Hooker, became Director at Kew, but a year later a January frost and snowstorm destroyed many of the older trees and most of the shrubs. Joseph used this sad event as a starting point to rebuild the Gardens.
In 1874 Joseph was made President of the Royal Society and then was knighted three years later. He continued to do some collecting and went to North America and brought back 1,000 species of dried specimens from the Rockies. Then in 1879, another catastrophe hit Kew when a hailstorm broke 38,649 panes of glass. The debris weighed 18 tonnes.
Sir Joseph Hooker retired from Kew in 1885 and moved to a retirement home he had built near Sunningdale. He continued to work and write and received many honours from all over the world. Three years short of his 90th birthday, he ceased editing the Botanical Magazine which he and his father had published for nearly 80 years. When he could no longer travel to Kew, he had crates of herbarium sheets sent to him so he could continue to work. He loved Indian botany but the balsams he found terrifying, deceitful and above all, plants worse than orchids, but he managed to name 303 new species.
Sir Joseph died in December 1911 and although an offer was made to have him buried in Westminster Abbey, he had expressed his own wishes and accordingly was buried in a family grave beside his father a few yards from the Directors house at Kew.
Ruth Ann Moger, Orchid Society of Nova Scotia
---
A SPECIAL ORCHID FIND
On mainland Nova Scotia there are but a couple of known Showy Ladies Slipper (Cypripedium reginae) colonies and these are under constant threat. One in the Musquodoboit area is next to an ever expanding gravel pit and now there are but sadly only five plants left from what was reported to be a very large colony years ago. The other colony is in a fen area in a provincial park and that is somewhat protected by the park officials. The large number of public viewing the orchids is in fact hindering their expansion. There are well worn pathways and most observers seem to stay on the paths but at the same time the orchids cannot expand in that direction due to being tramped on.
You can imagine my excitement when I heard of a new area that was not known to the public and was in fact not in any danger of destruction by human forces. It came to be that last May I discovered a very old introduced shrub that the French settlers had brought with them when they settled in Nova Scotia. This shrub was below a road side up in the mountains in Colchester county. While photographing it, my mother and sister set off to let the land owners know what I was doing down in their bushes. In the course of the conversation my mother told the owners that usually I do orchid photography. The lady of the house said that they had orchids up near their camp and would my mother like to see the photographs. Mom was sure that they would be the common Pink Ladies' Slipper but what a surprise when she was shown this poster size photograph of a beautiful group of Showy Ladies Slippers.
They had discovered the orchid colony about ten years ago and were aware of how very special they were and so were very careful not to give away their location. An offer was made to take us to the orchids when they were in bloom but also a promise was extracted from us that we were not to divulge the location to anyone else.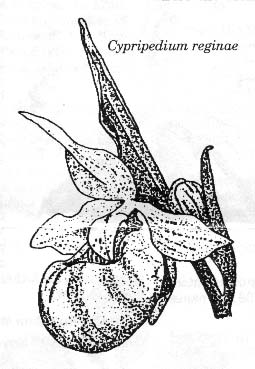 The weekend of July 12/13 was just right in my estimation, taking into account the late season and especially in the Cobequid mountains. On contacting the owners we (my mother and I) arranged a suitable time and they provided the transportation. The road into the orchids was quite a high lengthy climb and very rocky and rutted. An ordinary car would never be able to make in to this special location. Mom, the driver and myself sat in the cab of a very large, impressive four wheel drive truck that was equipped with air conditioning, cellular phone and two way radio. (what a way to explore for orchids!) In one area of the map the radios would have done us no good at all if we had needed help as the mountain blocks the air waves. The owner of the fen we were heading for gallantly sat on a tire in the back of the truck and held on for dear life.
What an exciting location. It felt like we were on top of the world. It was quite wonderful walking down to the spring fed fen as we went through a stand of soft wood trees that was home to the Pink Ladies' Slipper orchids (Cypripedium acaule). Many of these were still in bloom but sadly well past their prime. The fen was a most enchanting place. Deep sphagnum moss, huge waist high ferns and nestled just below them were the Showy's. I estimated about one hundred plants in leaf but only a small number had open flowers. We were in fact still a week or two early for the prime flowering. Looking around I realized that this fen is not huge in comparison to the provincial park location but in time the numbers of orchids will certainly equal that area.
I wasn't allowed to go any farther into the fen then where the orchids were growing. In fact our host pretty much stayed at my elbow the whole time. He was quite concerned for our safety as we were warned that many of the fens and bogs up in that area of the Cobequid Mountains have small sink holes in them but not so small that a full grown man couldn't step into one and be lost forever. The local residents are very cautious of these damp areas for good reason.
Our visit to the fen was quite brief as the mosquitoes took offense at our invading there territory and declared open war on us. With the clouds of them in hot pursuit of us we made a hasty exit leaving the orchids to bloom beautifully only to be enjoyed by the passing deer and other wildlife.
Heather Drope, Orchid Society of Nova Scotia.
Heather is OSONS's COC Conservation Rep and an avid wild orchid researcher and photographer.
---
Growing Deciduous Orchids under Lights
Most of the deciduous orchids we grow are in the Cycnoches/Catasetum/Clowsia group: (the Catasetinae). They are all warm growers, or at least grow well under our warm conditions. Under our fluorescent light setup day temperatures run about 78F (26C) and there is only a slight drop at night when the lights go off.
Cycnoches chlorochilon (the Swan Orchid) is, for most people, the most spectacular of this group. It has very large green flowers that are heavily scented; when this orchid is in bloom the scent is apparent the moment one enters the house. Although the flowers are not long lasting, it usually produces three spikes at fairly long intervals. For us it starts to bloom in the late spring and finishes in August or September. Towards the end of this period the leaves yellow and eventually drop off.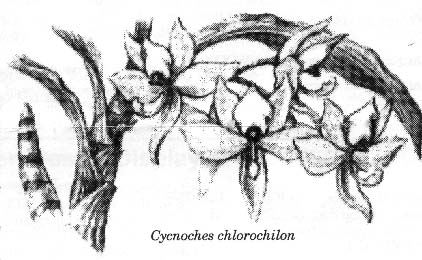 Some of the Catasetums are equally impressive. My own favourite is Catasetum pileatum, a large flowered summer bloomer with large creamy yellow centred flowers. Ctsm. Orchidglade, a hybrid, is also showy. The clone 'York' has deep crimson flowers. These usually produce two spikes from each lead. One of the problems with the Catasetum group is their way of shooting off their pollinia when touched -- and when this happens the flower fades very rapidly.
The genus Clowesia was once Catasetum, but has been split off into a group of its own. Clowesia russelliana has attractive pendant pale green spikes, heavily scented of eucalyptus: frequently there are two spikes to each front growth. Clowesia warscewiczii, a smaller plant, has attractive white whiskered flowers. Clowesia Rebecca Northen is similar but has more pink in its blooms. Both have pendant bloom spikes. Then there are oddities such as Cycnoches pentadactylon (five fingered). I suggest seeing this one in bloom before you buy it. We give all three genera the same culture under fluorescent light, with a mixture of Growlux Wide Spectrum and cool white tubes, four or eight tubes per unit. The light period is fourteen hours a day in summer, ten hours in winter. The plants are grown in a loose mix of tree fern, bark, coarse perlite, sphagnum and charcoal, and are watered and, fertilized heavily when in growth. When they drop their leaves they are removed from under the lights and kept in a dry, slightly cooler area. Very small plants are misted occasionally during this resting period; the others are kept entirely dry. Growth usually resumes quickly and they are then replaced under the lights. When in full growth the leaves can be as much as two feet high and have to be moved down so that they do not touch the fluorescent tubes. Although the main bloom period is spring to fall, growing under artificial light sometimes confuses this process and Catasetums in particular may bloom on into the late fall or winter.
This is an interesting and rewarding group of orchids to grow, in the right conditions; we recommend them highly.
Mary Helleiner, Orchid Society of Nova Scotia
---