---
The Journal of the Canadian Orchid Congress
Le Journal de la Fédération Canadienne des Sociétés Orchidophiles
---
news
---
September 1996
Volume 8 - Number 3
---
Editor: Malcolm Adams
---
Contents
---
C.O.C. President's Message
Steve as summer gone already? Already I'm finding our latest blooming native orchid, the Nodding Lady's Tresses Spiranthes cernua, in bloom.
Let me congratulate the Vancouver Orchid Society and the other BC societies that held a very successful AOS meeting this spring. The success of this event resounded clear across our country! It's a great omen for the 1999 World Orchid Congress. When your society hosts an orchid show, you make a tremendous contribution to promoting the orchid hobby.
Even as I write this there are Canadian orchid hobbyists on their way to the World Orchid Congress in Brazil. We all wish we could be with you. Please let us tell us about it in an upcoming COC newsletter.
More people are becoming keenly interested in what the Internet can do for their hobby and their society. I've been asked if I could construct a simple World Wide Web page for each COC member society at the COC web site. The answer is "yes". While it would be better if each society would develop and maintain their own page, as some have done, we can provide you with a basic page. Should you at some point develop your own page, we could easily make a link to your new page.
The information that I need for your page would be the contact person in your society, your meeting night, time and location and the traditional weekend for your show. Send me the information or bring it to Halifax!
Communications has been a problem in the COC. Living at one edge of the country, with few orchid societies, I know. It's hard to get into a room with orchid growers from other clubs. Well, at the requests of a few people, we've created an electronic room where Canadian hobbyists can share ideas. Called orchids-can, it's a listserv that anyone with an Internet connection can join in at no cost. Just send a message to majordomo @ chebucto.ns.ca and in the body, write "subscribe orchidcan" and you're in.
We have COC pins. They are simple and elegant, in formal black and silver featuring the COC emblem. They're $4.00 each and will be available at the COC Convention or by writing me (with $1.00 for postage).
The Canadian Orchid Congress meeting is coming up on October 19 and 20 in Halifax, and I trust you can come. This will be the largest orchid event ever in Atlantic Canada and the very first AOS show in this part of the country. We'll have many special speakers including Bob Gordon and Dr. Norito Hasegawa. Come visit us for some Maritime hospitality.
Pam Ferro, the COC convention chair wrote to all the clubs asking for an orchid plant donation for the COC auction in Halifax. The money collected will help the COC run another year. Some clubs have kindly donated already. If you can, it is most appreciated.
Two OSNS members have been busy this year working on special projects for the COC Show. Barb Mclean has produced a two year calendar illustrated with her beautiful sketches of orchids in her collection and Ruth-Ann Moger has produced a cook-book.
Hope you can make it to Halifax in October.
Steve Saunders
---
Bulbophyllums
Bulbophyllum is a huge unwieldy genus with over 2700 described species, 1600 of which are considered valid. It is pantropical with some representatives being found In South America and Africa but the major concentration is found in Southeast Asia including New Guinea and Australia. It is thought to have originated in Malaysia where the greatest number of species still occur.
Characteristics of the genus include sympodial epiphytic pseudobulbs emerging from a relatively long rhizome. (The late Ray McCullough pointed out that these pseudobulbs had a spongy texture when gently compressed laterally.) There is one lateral leaf (rarely two in forms found outside Southeast Asia) and the inflorescence is produced from the base of the pseudobulb. The column bears a foot or mentum and the lip is always loosely attached to the apex of the column-foot with a hinge-like arrangement which permits movement. (This type of attachment is thought to be useful in attracting pollinators in the first place and then, by throwing the pollinator off balance when it lands, perhaps improving the chances of effecting pollination.)
Within the Bulbophyllum alliance, perhaps the forms most frequently encountered and hence of most interest to the judging community belong to the "genus" cirrhopetalum. It is within this genus that we find active, and successful hybridization taking place and, to date, two FCC's have been awarded to Cirrhopetalums. However there has been considerable disagreement about the validity of the genus Cirrhopetalum. In 1861 Reichenbach reduced Cirrhopetalum to a section of the genus Bulbophyllum, and in 1912 Smith transferred all Cirrhopetalums to the genus Bulbopyllum. Considering that the two FCC's awarded above were given to Cirrhopetalum Elizabeth Anne 'Buckleberry' in 1989 and to Cirrhopetalum rothschildianum 'Red Chimney' in 1991 it would appear that the judging community has been slow to accept the decisions of the taxonomists.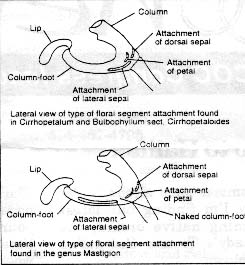 Recently, Leslie Garay, Fritz Hamer and Emly Siegerist attempted the monumental task of reexamining the many species ascribed to the former genus Cirrhopetalum with a view to reestablishing the genus within the Bulbophyllum Alliance. Their guiding principle in this undertaking was to attempt to separate characters of primary versus secondary importance. (The weighting of characteristics is not necessarily an objective exercise and is often subjective.) However they decided that the placement of the attachment of the lateral sepals to the column and the degree of fusion along their outer margins were primary characteristics and that the amount of hirsuteness and the presence or absence of palae were of secondary importance. Using these criteria they were able to decide that many forms had been ascribed previously to the genus Cirrhopetalum on relatively trivial superficial characteristics or by mere similarity of form. Their results were published in a large paper in the Norclic Journal of Botany in 1994. Although they dealt with many species and assigned them to many new taxons I will deal with only a few of the more familiar here.
Cirrhopetalum
In the genus Cirrhopetalum the attachment of the lateral sepals to the base of the column-foot is such that they are only rarely spatially separated from the attachment of the dorsal sepal and then only by the insertion of the petals. (These forms are said to lack an exposed or naked column-foot.) The lateral sepals then twist once so that the outer margins come together and are fused to form a convex blade. The distal ends of these lateral sepals are never extended into long tails. A few familiar species, among the 72 now considered valid, that may be found in this genus are elegans, lepidum, makoyanum, picturatum, pulchrum, sikkimense, and umbellatum.
Bulbophyllum Sect. Cirrhopetaloides
Similar species have been returned to or left in the genus Bulbophyllum in the Section cirrhopetaloides. These forms all have the lateral sepals originating close to the insertion of the dorsal sepal (part of genus definition of the Bulbophyllums) and do not ever, therefore have a naked column-foot. The lateral sepals of these species are joined only for a short distance basally and convergent medially and free apically. A few familiar species in this group are acuminatum, gracillimum, longissimum, rothschildianum, and wendlandianum.
Mastigion
In some species there is a space along the column-foot between the points of attachment of the dorsal and lateral sepals. In other words, the dorsal sepal is attached at the base of the column and the lateral sepals are attached towards the apex of the column-foot. Forms exhibiting this condition are said to have a naked column-foot and this condition tends to produce widely open flowers. Rarely the sepals may only be separated by the attachment of the petals but usually their is a greater distance between the attachment of these segments.
Those having a naked column-foot and lateral sepals which converge but do not join and have long free tail-like extensions are placed in the new genus Mastigion (from the Greek for a small whip). Perhaps the best known species that fall within this new genus are appendiculatum, ornatissimum and fascinator. Many of these forms resemble the forms in the genus Bulbophyllum Sect. Cirrhopetaloides.
As in the case of the Masdevallias, Bulbophyllums have been receiving predominantly CBR's and CHM's as they first appear on the judging scene. Can we expect that there will be an increase in the number of quality awards in the future? I predict that there will be. The Suphachadiwongs in Thailand are activelv pursuing a hybridization programme which has produced some charming forms. Perhaps we should anticipate seeing these and others in the future.
Reference: Nordic Journal of Botany (1994) 14:609-646
Doris Jensen. Orchid Society of the Royal Botanical Gardens, Burlington, ON
---
Dreise = Masdevallia
Au nom de José Masdeval, médecin et botaniste espagnol, il faudra certes un jour adjoindre celui d'un orchidophile remarquable, celui-là même que nous avons eu la chance de recevoir parmi nous a la réunion de juin: Egon Dreise dont le nom est pour moi synonyme de Masdevellia. Autrefois résident de Laval, Québec, Egon Dreise vit maintenant à Calgary.
Un conférencier doublé d'un orchidophile ne manque jamais de donner quelques trucs pour que d'autres bénéficient de son expérience souvent acquise chêrement, dans un long et parfois douloureux processus, un chemin parsemé de tentatives infructueuses mais aussi de succés enthousiasmants.
Egon Dreise donne un conseil bienveillant à ceux qui débutent dans la culture des masdevallias: il faut avancer tranquillement. Quant aux conditions de culture, il faut respecter deux aspects essentials: d'abord, il convient de s'assurer qu'il y a un mouvement d'air 24 heures sur 24; également, il importe de maintenir un niveau d'humidité élevé.
Pour cultiver la plupart de ses masdevallias, Egon Dreise utilise le mélange suivant
1/3 de petite êcorce de pin
1/3 de fougère arborescente courte
1/6 de perlite
1/6 de charbon de bois
Le mélange Dreise dure de deux à quatre ans.

Si on voulait juger de la ferveur ou de la profondeur de la passion d'un orchidophile, il faudrait peut-être se demander s'il a été jusqu'à cueillir dans la nature les orchidées qu'il préfère. Pour Egon Dreise, la réponse est affirmative. Il nous a raconté avec la verve et l'humour qui lui sont propres ses expéditions en Équateur. À ce chapitre, de l'ensemble de ses propos, j'ai surtout retenu le respect qu'il manifeste pour les gens qu'il a côtoyés sur le terrain et pour la nature. Ainsi, il a affirmé avoir préféré laisser sur place des masdevallias dont les conditions de culture, en captivité, lui semblaient d'emblée trop difficiles à reproduire Chapéau! Une telle attitude commande l'admiration.

Viateur Boutot, L'Orchidexpress, Août 1996, Société des Orchidophiles de Québec.
---
Dr. Carl Withner
The Medal of Meritorious Achievement from the Orchid Digest
At the 1996 Vancouver Orchid Society Show and ODC meetings in Vancouver, President Carol Baughman presented the highest form of recognition that the organization can present, the Orchid Digest Medal of Meritorious Achievement, to VOS member Dr. Carl Withner. The presentation took place at the Judges Breakfast and was a very popular and well-deserved recognition.
Dr. Withner is Professor Emeritus of Biology of Brooklyn College City University of New York. For nearly thirty years he was in charge of the orchid collection at the Brooklyn Botanical Garden. He later was curator of the orchid collection at the New York Botanical Garden.
Having travelled extensively in his search for knowledge pertaining to orchids, he is presently completing the final two books in his six volume "The Cattleyas and Their Relatives". This series is a monumental work that will be the key reference in the study of the Cattleya alliance. His books, "The Orchids, A Scientific Study" and its companion volume, "The Orchid, Scientific Studies", have been referred to by some foreign botanists as their "Bibles" for certain areas of research. He was also co-editor of the "Encyclopedia of Roses and Rose Culture". He has written more than 125 other papers. Dr. Withner received his Masters and Doctorate Degrees from Yale University. He has been an American Orchid Society judge for nearly forty years and that organization has recognized his achievements by presenting him with their highest honour, the American Orchid Society Gold Medal, and making him an Honourary Life Member.
Carl joins an illustrious group of Orchid Digest Medal recipients including Herbert Hagar, H.C. Alexander, B.O. Bracey, the firms of Fred Sander and Vacherot & LeCoufle, Ernest Hetherington and Dr. Jack Fowlie. No previous recipient has been a more popular honouree that Carl. The Orchid Digest sends to him their heartiest congratulations and gratitude for his magnificent contribution to the world of orchids.
Reprinted from ORCHIDS, July 1996, page 736
Dr. Carl and Pat Withner have been members of The Vancouver Orchid Society since before 1980, when Carl was a board member, and Life Members since 1985. He has been our botanic advisor for many years and chairs the show table judging at the monthly meetings. He has also been judging chair for our annual shows. He and Pat open their home and greenhouses for our membership at least once a year where we get to see how the master grows his orchids and other very interesting botanicals
Eleanor Holwerda, Past President VOS
---
It's an 0 R C H I D
We had been living on Vancouver Island for a few years, lovingly tending our little remnant of original vegetation and admiring all the little 'natives' that began to show up again, after we had cleared the ground of periwinkle, grass, maple-seedlings etc. My husband and I have developed, over the course of a long 'education' in gardening, the philosophy of leaving to grow anything that we don't recognize as undesirable for a particular area.
So it happened that in a very dry place we noticed little green tubes growing up, similar to Lily of the Valley; these tubes grew to about one foot high (30 cm), developed leaves along the stem and from the top axils there came small green and pink flowers. Hm - not much of anything, I thought. Then I looked closer, examining the 2 cm flowers: three green sepal, two green petals, a green column and a maroon, three-lobed lip! It was a very small orchid flower.
Excitedly I showed it to one of our new friends, who had grown up on the island. "Oh yes - that weed! Sure it's an orchid, but it grows all over the place. I even have to pull it out of my driveway!" Well - perhaps he would pull it out, but I would nurture it! I also looked this little foundling up in my books: its name is Epipactis helleborine.
The genus Epipactis (related to Cephalanthera) is not too well organized by the taxonomists, according to one source. There are about twenty-five species of these usually rather tall terrestrial orchids, mostly in Asia and Europe, only two occur in North America.
One species, the somewhat rare Epipactis gigantea grows in the Western part of this continent, ranging from Canada to Mexico. It is said to prefer alkaline soil, even growing near hotsprings in limestone. It can grow up to four feet tall, often in small colonies, blooming between March to August with 4 cm flowers that have coppery-green sepals, pink or purple petals with darker veins and a lip shaped like a gravy-boat, the spout of which is the orange-coloured mid-lobe, the column is yellow. Because of its moveable lip, its common name is "Chatterbox".
Now we're coming to our little wildling on the concrete-wall, the Epipactis helleborine (or E. latifolia). This one can be found in the Eastern parts of North America and again in the milder climate of British Columbia, including Vancouver Island and places South. The first mention of it growing in the U.S. was in 1879 and in Canada in 1880. It is an immigrant from Europe and may have been brought along as a remedy against gout. I have not found this species mentioned in my other (German) wildflower books, perhaps it came from Britain. What I did find in those books was another Epipactis (E. atrorubens), which grows on sandy beaches (in Germany), and smells like vanilla. There are also pictures of a red and a pale green Cephalanthera, which look quite similar to our Epipactis; they are called "Little Birds of the Forest".
Where ever Epipactis helleborine came from, it certainly has spread out. It seeds itself abundantly just as our friend had observed. I now find these little orchids in many places in our garden. The blossoms are quite variable in colour, ranging from pale green with a glossy maroon lip-interior to bronze, rose and maroon. Altogether, this little immigrant is a charming addition to our wild garden and I shall find out if it, too, smells of vanilla, but I won't pull it out!
Ingrid Schmidt-Ostrander, Victoria Orchid Society
Ingrid Schmidt-Ostrander is the Conservation rep for the Victoria Orchid Society. She is also an accredited AOS judge.
---
Mini Cattleyas
Exciting, Colorful & Small
Why should you try them? For the "addicted orchidist", it means having lots of plants in a small space. They are bright, colourful, flower twice per year and are fairly easy to grow. A miniature Cattleya is a plant under 15 cm in height, usually with multi flowers. You can grow five or six miniature cattleyas in the same space as one large full-grown phalaenopsis, so give them a try.
"Mini Cats", can he traced back to several species, a few of which are listed here for your information. In most cases the species will have some influence on the culture. If you know where the parents are indigenous to then you can match the conditions and probably have better results in growing these wonderful orchids. The genus Sophronitis, which includes S. coccinea, S. acuensis and S. cernua provides the basic parents for the really small varieties and has influenced the offsprings' bright colors. Several Laelia species can also be included: Laelia briegeri, L. flava, L. cinnabarina, L. sincorana, L.pumila. L milleri and L. lundii. Cattleya species that are small include: Cattleya luteola, C. walkeriana, C. aclandiae and C. violacea. A couple of Brassavola that need to be included in the list are Brassavola glauca and B. nodosa. There are probably a dozen other species that could/should be included but this gives you some idea of the complexity of the breeding that goes on to produce the unlimited color range of the miniatures.
Miniatures are a very diverse group of plants as you can see from the huge list of potential parents, but they are quite easy to grow and flower if you follow a simple cultural guide. As with all orchids, basic necessities are: light, air, water, temperature, nutrition and humidity.
Light
For the windowsill growers, the best windows would be southwest or southeast. The southwest window provides afternoon and early evening light so the intensity can be quite high, especially during summer months. The southeast window will provide early morning and early afternoon light giving the plants good light without the associated heat. A south window will also work during the spring, fall and winter period but during the summer the sun is usually too high in the sky to provide enough direct light, especially if there is a large overhang on the house. North windows will not provide enough light to flower mini cattleyas.
As light is the most important factor in growing orchids, it is always helpful to provide additional light if possible. The addition of two fluorescent tubes above the plants in the window will not only increase the light levels but also serve to increase the day length in our short day winters.
For those growing under total artificial light conditions 2000 fc. to 4000 fc. are acceptable levels for mini cats. This level is less than required for vandas and oncidiums but more than for full-size cattleyas. Remember, some of the species' parents grow in full sun in Mexico, Brazil, etc.
Air
Very simple! Lots of air movement around the foliage is necessary to grow mini cattleyas. A fan can be directed right at the plant. Again, the species' parents are frequently exposed to full wind strength. Don't forget air is also very important around the roots. I will discuss medium later under the transplanting section.
Water
When they need watering!! It is the same for all plants, watering schedules are affected by light, temperature, plant variety, medium, air movement, stage of growth, type of container and day length. Before you water each factor should be considered. Having said that, most "mini catts" should be thoroughly watered (entire medium saturated) then allowed to dry so that the medium at the bottom of the container is still slightly moist before re-watering. During the winters's low light periods it is better to keep the plant slightly drier. City water can be used as long as leaching takes place each watering and the plants are not sitting in the leached water. It must be drained away.
Temperature
The old adage "if you are comfortable, the orchid plant will be" does not hold up for "mini cats". When the new pseudobulbs are growing, the plant can and should be maintained at about 18C to 20C but once the pseudobuibs are mature, mini cats prefer 15C to 18C. At all times, air movement is important. Flower bud formation is enhanced during the cool night temperatures and usually results in flowering within a month or two.
Nutrition
All cattleyas are heavy feeders, mini cats are no exception. I would recommend the following feeding schedule. Feed every watering except the fourth, that means when the plant is dry, water with a fertilizer solution for three times then the fourth time the plant needs water thoroughly saturate (leach) the medium with straight water. This process will remove any build-up of toxic salts that might accumulate in the medium.
There are literally hundreds of brands and hundreds of different analysis of fertilizers on the market. Use soluble fertilizers that have a relatively high percentage of fertilizer in the container. For example, 20-20-20 has over 60% fertilizer whereas 2-1-1 has only 5% fertilizer. The first number represents nitrogen which is used by the plant for foliage growth. The second number is phosphorous which aids in root and flower production. The last number is potash which helps in flower and seed growth.
Schedule fertilizing as follows:
30-10-10 after flowering to produce new leaves and psuedobulbs (3 to 5 months)
10-52-10 next to increase root growth and start the flowering response (1 to 2 months)
7-11-27 to finish flower production (3 to 5 months).
Humidity
Humidity is not as important as most people think. Increased humidity will improve the quality of flowers but generally will not make (or stop) a plant from flowering. To increase humidity it is better to grow plants over a source of water so the water can evaporate around the foliage. Syringing the plants increases humidity for only a very short period of time. The resulting residue on the leaves is unsightly and difficult to clean off.
Transplanting Orchids
Choose the medium that suits your watering techniques. If you apply lots of water, then a very well drained medium is necessary. If you don't have time, then choose a medium that holds water (like sphagnum moss). I use a mix of 50% light rock (expanded clay), 25% bark and 25% charcoal.
The container really has only one critical criteria. It must have adequate drainage! Clay or plastic pots work well although clay pots provide added air access to the roots. When transplanting, only increase the pot size by one size. For example, a plant in a 3" pot should be planted in a pot no larger than 4". It is better that the plant be under-potted than over-potted.
If possible, time your transplanting to occur after flowering and before the new roots are one-half inch long. The roots break quite easily if they are longer. Using a very loose medium like 50% light rock, 25% bark and 25% charcoal makes the transplanting easier as the old medium simply falls away and the new medium will fill in around the root system by tapping the pot on the counter. This avoids having to pack around the roots thus eliminating air spaces. Generally straight bark will need transplanting every year or year and a half. Don't allow the medium to break down or root rot will occur.
After transplanting treat plants with a root zone fungicide like Truban for the first watering. Ensure the new medium gets plenty of water. Remember the new medium will not hold as much water as the old medium. This may mean adjusting your watering to more frequent intervals tiH the medium becomes saturated.
Good luck with this diverse and delightful group of orchids!
Gordon Heaps, Orchid Society of Alberta
Gordon Heaps, past president of the Orchid Society of Alberta and Vice President of the COC, is a horticulturist at Muttart Conservatory, Edmonton, and an orchid addict for the past ten years.
---