---
The Journal of the Canadian Orchid Congress
Le Journal de la Fédération Canadienne des Sociétés Orchidophiles
---
news
---
Spring 1995
Volume 7 - Number 2
---
Editor: Malcolm Adams
---
Contents
---
C.O.C. President's Message
The COC meeting in Edmonton is not far off. While I'm packing my bags, I'll take a few minutes to tell you about some of the people that have been making difference at the COC.
Malcolm and Judy Adams have done a terrific job editing, publishing and distributing our COC Newsletter. Each edition of the newsletter is typeset with style. Malcolm and Judy do this despite my constant lateness with the President's message. Thanks, Malcom and Judy. And if the newsletter wasn't enough, Malcom and Judy assembled this year's COC club directory.
Marilyn Light has been working on two fronts. Working together with Todd Boland and Bernie Huizing, Marilyn has started the COC Native Orchid Slide Project. All too often, we ignore our local beauty for something more exotic. I'm sure the COC Native Orchid Slide Project will remind us of the beauty of our Canadian species and the need to protect them. Many more people will be contributing to the success of this initiative as it rolls out. Over and above this protect, Marilyn has been meeting and working with Agriculture Canada and Environment Canada in Ottawa regarding import and export regulations. This is long and frustrating work that requires persistance and patience. Marilyn handles the job well.
Landis Standlake stepped up and took on the COC speakers tour project. This is a complex project that requires diplomacy. He's done a terrific job. Many clubs are looking forward to hearing the speaker - Sergio Englert from Riscel Orcideas of Brazil - this fall and buying Riscel plants. I'm sure Landis will be pleased to see the end of the project too!
Behind the scenes many people are doing a outstanding job promoting our hobby in Canada. COC Past President Ken Girard published a great article on the COC, its history and upcoming COC Meeting in the Pacific Northwest Judging Region Newsletter.
Gordon Heaps, Irl Miller and all the folks in the Alberta Orchid Society are preparing a great convention for us in Edmonton.
At the cutting edge is Jerry Bolce in the Central Ontario club. At the University of Waterloo, Jerry has set up a World Wide Web Page called The Orchid House that can be accessed from anywhere in the world through the InterNet. It's a treasure chest of Orchid information; from AOS Culture Sheets to how to run an Orchid Show or Society. Jerry has also included a list of upcoming orchid shows in Ontario. If you have access to the InterNet and a Web browser, check out Jerry's work at http://sciserv2.uwaterloo.ca/orchids.html.
The American Orchid Society is just setting up a similar World Web site and COC will have one soon too (more about that next time). While not everyone uses the Internet, many do (a recent statistic shows 13 percent of Canadians have accessed the InterNet). This may be one way to help address the communications challenge we identified last year at the annual meeting in Winnipeg.
We can all contribute to our hobby in different ways. Look, I've almost got my bags packed for the COC meeting in Edmonton. Are you coming.? Hope to see you there!
Steve Saunders, President, COC
---
THE GENUS DRACULA
In 1978 American botanist Dr. Carlyle Luer elevated 51 species from the Saccilabiate section of the genus Masdevallia to the new genus Dracula. The name Dracula which literally means 'Little Dragon', was chosen by Luer to satisfy Draconic as well as Chiropteran (bats) epithets. Luer has stated that if he had realized that the name Dracula would be popularized on the stage and screen, he would have chosen another.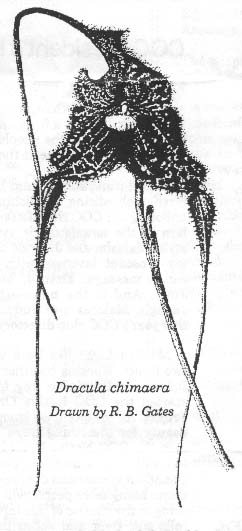 In 1872 H. G. Reichenbach described the first Dracula and named it 'chimaera' because the grotesque flower reminded him of the mythological, fire breathing monster that had the head of a lion, the body of a goat, and the tail of a snake!
So right at the start we see the trend being set as to the naming of most of the species in this genus. At the time of discovery D.chimaera was placed in with the masdevallias because no other genus could accommodate it. One of the contributing factors for this decision was the long sepaline tails.
As more species appeared, Reichenbach kept adding them to the genus Masdevallia and eventually erected the section Saccilabiate because of the distinctive, saccate lip. By the time of Reichenbach's death in 1889 he had described 23 species in the saccilabiate section. Thirteen of the species were illustrated in Florence Woolward's monograph 'The Genus Masdevallia' which was printed in 1896.
Some of the keys that Luer used to raise the draculas to generic status are: the leaves are comparatively thin and sometimes plicate, with a sharp, prominent dorsal keel along the midrib. The blades are usually tapered into short, sulcate, secondary stems which also are usually formed in dense clusters, whereas the masdevallias are characterized by a solitary, more or less fleshy, coriaceous leaf, commonly petiolate, and borne by somewhat shorter, usually clustered, secondary stems.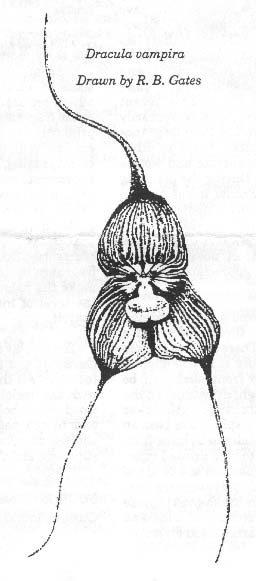 The most distinctive feature of draculas are the petals and lip, there being no similarities in the other genera. In Masdevallia the petals are commonly thickened along the labellar margin, usually forming a carina or a tooth, and the lip, which is usually not much larger than the petals, is commonly oblong with or without a pair of folds or calli near the middle. The base is attached to a curved extension from the base of the column-foot. In Dracula the apex of the tiny, thick petals is usually conspicuously bivalvate and papillose. The usually much larger lip is partitioned into two parts: a basal hypochile (basal portion of the lip) and an apical epichile (the terminal part of the lip when it is distant from the basal portion). The hypochile is oblong with erect margins deeply cleft centrally, and attached to the base of the column-foot without an extension. The oblong, rounded to transversely reniform epichile is commonly concave, but it may be flat or even convex and is often coursed by elevated, radiating veins. In many species a large, dangling labellum resembles a mushroom complete with gills. At least one species, Dracula chestertonii, emits a distinct mushroom like odour. Wild speculation of pollinators include bats, hummingbirds, mice and even tiny dragons.
Luer has had problems with the classification of species in the genus Dracula and has divided it into three subgenera. They are
a) Dracula subgenus Dracula which has five sections with one section divided into two subsections. This group contains all the species except two.
b) Dracula subgenus Sodiroa with one species - D. sodiroi, and
c) Dracula subgenus Xenosia with the single species - D. xenos.
Habitat
With the completion of the Thesaurus Dracularium we now have a total of 95 species described. They are distributed in the moist, mountain forests of the Western Neotropics from Guatemala to Peru. None is known from Bolivia, Brazil or Venezuela. They are found mostly between 1500 and 2500 meters in altitude above sea level. Many of the species are extremely localized in distribution, with some being confined to a single valley.
They usually grow epiphytically in accumulations of rich, mossy humus in well drained shaded places in moist forests where the humidity remains high and the night temperatures drop to the chilly side.
Most inflorescences are descending and emerge from the loose substrate. Those species that produce erect inflorescenses grow well terrestrially. Most of the draculas produce flowers successively, but a few species that produce only one flower per inflorescence usually do so in great profusion.
Cultivation
In our greenhouses draculas are usually grown in baskets to allow for the descending inflorescences, they can be grown in a number of materials best suited to your conditions, with New Zealand sphagnum moss leading the way. They need to be kept moist and never allowed to dry out. With this heavy watering, the water should be either rain water or possibly reverse osmosis to help prevent salt build-up.
The plants do well on lower light levels of about 1000 foot-candles and should never be in direct sunlight. They really do prefer temperatures below 80 Fahrenheit during the day but will stand more with good air movement and high humidity. A good night-time temperature drop helps them to survive the hot summer days. The plants will develop blackened leaf tips when exposed to high temperatures. They are very susceptible to fungal rots and if the temperature becomes too hot they can suddenly drop all of their leaves, leaving you with an empty basket!
Dracula hybrids
From conversations with growers and hobbyists there appears to be very little if any activity in this area because of past disappointments.
Intergeneric hybrids
The very first Dracuvallia hybrid was made in 1902 by Veitch when he crossed the then Masd. chimaera with Masd. tovarensis. This certainly could not have been a great start since Masd. tovarensis has proven to be extremely dominant in reproducing its white colour.
Presently only about 12 Dracuvallia hybrids have been registered.
Dracula has not been registered crossed with other Pleurothallidinae, but Dr. Geradus Staal of Peninsula Hybrids in Palo Alto, CA informs me that he has in community pots a cross of a Porroglossum x Dracula none of which have bloomed to date.
When we consider that there are more than 360 species of Masdevallia with many in the warmth tolerant range and now close to a 100 species of Dracula there is plenty of room for the imagination to run wild! But patience and real thought must be used when making these hybrids. Because, as Marguerite Webb of J&L says, some were tried earlier but they were so bad that they were never registered and most were destroyed.
Another large stumbling block appears to be that the resultant hybrids are sterile. The draculas will breed with Masdevallia hybrids, put the Dracuvallia hybrids will not breed back to the species parent.
Some reasons for attempting intergenerics: on the Dracula side you have the successive flowering habit of almost all the species, most are large flowered, the very dark to almost black colour of D. vampira and others could be used in the pursuit of the elusive black orchid. On the negative side many of the draculas produce descending inflorescences and downward facing flowers, they require very high humidity and cool temperatures, they are very susceptible to fungus, and they seem to cause lack of colour clarity in their hybrids.
Present day hybridizing started in 1977 and has mainly involved Masd. veitchiana and Masd. coccinea. This results in orange flowers when veitchiana is the parent and pink flowers when coccinea is used. Most of these hybrids exhibit rippling or pleating on the surface and some severe reflexing.
Dracuvallia hybridizing took a large leap forward when Pui Y. Chin made the cross Dracuvallia Blue Boy (Masd. uniflora x D. chimaera) which has received several AOS awards since its registration in 1993. It is a consistently good cross, with flowers a full round shape, held on upright inflorescences. The colour is an astounding iridescent, Bluish-lavender pink.
Pui informs me that the reason he used Masd. uniflora was because it has proven to be a good parent, it has short strong inflorescences, and the colour appears to be fairly dominant. He has a couple more crosses in process that he has high hopes for, one of which is a cross of Masd. Winter Blush (chaparensis x Angel Frost) x D. gorgona, and Masd. coccinea x D. vampira.
Mario ferrusi, Niagara Region Orchid Society.
Mario Ferrusi lives in Fenwick, Ontario, and is a member of the Niagara Region Orchid Society. He is also an active member of the Odontoglossum Alliance and a Student Judge.
---
Fragrance Exhibit
Orchids have always been famous for their fragrance, but until recently this aspect has largely been ignored at orchid shows, where plants have been judged primarily for their other qualities - flower size, colour, shape, etc. Over the past few years there has been a growing interest in the idea of judging orchids for their fragrance, and suitable judging rules, criteria and standards have been developed, based in part on those used in the perfume industry. At a number of recent orchid shows, fragrant plants have been temporarily removed from "normal" displays to allow their fragrance to be judged, using a variety of tubes, boxes or other devices to allow the judges to concentrate and isolate their scent from the surroundings. During the planning for the 1994 Ottawa Orchid Society show, it was decided to build on this concept by including a dedicated fragrance exhibit, where plants would be exhibited and judged on the basis of their fragrance. A display was therefore required to hold the plants at "nose level", and allow the judges and the public to appreciate the scent of the flowers.
The display we designed was based on a square plan (six feet square) with shelves on three sides, and a pegboard panel on the fourth side. There are two shelves on each of the three sides, normally set at heights of about 4 feet and 6 feet. The top front shelf can be adjusted to either 5 feet or 6 feet high, depending on the plants we are displaying. Most plants can go on the lower shelves, while plants with hanging spikes are best on the top shelf. Plants mounted on a slab can be hung from the pegboard, which can also serve to hold printed information about the display. All the shelves are made of pine, about 10" wide, finished with polyurethane varnish. Curtains on all four sides under the shelves provide a finished appearance and allow storage of odds and ends underneath, out of sight. Materials used for transport or packing can be easily stored under the display - the curtains hide it from view, while allowing easy access.
Two fragrance judging sessions were planned, one in the early morning and one in the evening. This is to accomodate the different habits of the various plants, some of which are fragrant primarily by day, while others are scented only at night. Also, although plants in the fragrance exhibit were to be displayed and judged primarily for their fragrance, we felt it important to emphasize that they would not be excluded from traditional judging, as long as they were entered under their appropriate category. If we had not allowed this, we felt certain there would be reluctance on the part of potential exhibitors, who would not want their plants to be excluded from ribbon and AOS judging. In our 1994 show, the display proved to be very successful, attracting a lot of attention from the "sniffing" public as well as from our fragrance judges. Enough entries were received (14) to make the judges' job quite challenging, and to confirm the level of interest and support for this category of exhibit.
The display itself proved to be very easy to take down, transport and assemble, it is extremely rigid once put together. All the framework can be quickly assembled, with the uprights linked by bolts and wingnuts to plywood panels below the shelves as bracing on three sides, and to the pegboard panel on the fourth side. The shelves are then simply laid on top of the framework supports, and the curtains clipped underneath.
Sketch of the finished display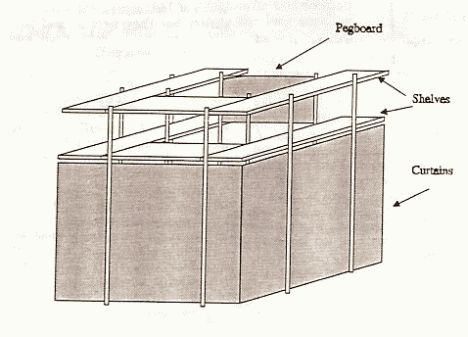 The figure to the left shows a sketch of the fragrance display as it appears when assembled. The uprights are made from 2x2 pine, linked by pieces of 3/4" dowel for shelf supports. The shelves are 10"xl" pine. Curtains can be of any suitable material, preferably of an unobtrusive colour, and are attached to the bottom of the shelves.
If you would like more details, please contact Dave Cooper of the Ottawa Orchid Society, phone (613)256-2853.
Dave Cooper, Offawa Orchid Society
---
The Pain We Go Through To Obtain Orchids!
On February 22, 1985, we were looking forward with excitement of attending Open House at Hausermann's greenhouses at Elmhurst, U.S.A. We got off to a good start by driving to the airport and safely parking the car. We arrived in Toronto on time to catch the 9:10am flight to Chicago. Due to fog at OHare Airport the flight was delayed and at 11:10am the flight was cancelled and we were told to return at 4:30pm.
At 4:30 pm there was still no flight so we contacted an Air Canada agent and were informed that the next flight out would not be until the next morning. Air Canada put us up in the Airport Hotel and provided us with breakfast.
Next morning our luck was not much better, again the flight was late leaving. We hadn't been in the air very long when the Captain announced that there was a small electrical problem and there would not be any refreshments as there was no power in the galley. As it turned out, we had lost an engine. We landed at Cleveland Airport and were told to take our luggage with us.
Eventually we arrived in Chicago at 4:00 pm and managed to get a hotel reservation at the Airport Hotel. We set off right away for Hausermanns as they were closing at 5 pm so we didn't have much time to look around.
The next morning we checked out of the hotel and checked our luggage at the airport. We took a taxi and headed once again for the greenhouses. The driver didn't speak much English or didn't want to. Everytime we came to a toll booth we had to hand over 40¢ for the toll. We wanted the taxi driver to put us off at a Holiday Inn as we knew our way to the greenhouses from that point. He actually stopped at another, what looked like a hotel but turned out to be an old age home.
We went in and asked the telephone operator to call us a taxi. This time we got a very friendly Italian taxi driver and he got us to Hausermanns without any trouble and offered to come for us when we were ready to leave for the airport.
At last we were in our glory. We were allowed to wander all over the greenhouses and chose our plants at our leisure. The staff were very helpful and they provided us with lots of good food too. When we were ready to leave, our friendly taxi driver came for us. His charge was half the fare that the original driver had charged and he knew where he was going,
We returned via Montreal and managed to get our Phalaenopsis with a 3 foot spike safely through customs and onto the plane to Ottawa. We heaved a sigh of relief, at last we were on our way home. But our problems were not completely over and we experienced yet another delay while the plane was de-iced. When we eventually got airborne we thought that the only other things that could go wrong were that our car was stolen and the house had burned down! Fortunately none of these things happened.
Our neighbours were all concerned because we were so late in arriving home and the phone started ringing as soon as we got in the house. Anyway we managed to come home with some very beautiful plants.
M.J. and Nora Gorman, Ottawa Orchid Society.
The Gormans are Membership #4 in the OOS and are life members because of their contribution to the society. It is now several years since we had a birthday cake at our show banquet to celebrate M.J.'s 80th birthday.
---
Pesticide Safety
Means of Absorption
Oral: The mouth and alimentary canal is one route by which a pesticide can be absorbed. The blowing out of plugged nozzles, smoking or eating without washing, or the contamination of food or cutlery, are common examples where this type of poisoning occurs. Good hygienic practices and frequent washing are always essential when handling or applying pesticides.
Dermal: The most common route of absorption of a pesticide is through the skin. It is important to remove the pesticide from the skin as quickly as possible. The danger of skin absorption is always greatest when the temperature is high and the skin is wet with perspiration. Dermatitis may also increase the risk of absorption. Absorption through the eyes is very rapid and requires immediate treatment.
Inhalation: Absorption through respiration is an important route when sprays or dusts are actually being applied. It can also occur when mixing is being done in confined areas; therefore, the preparation of formulations inside buildings should be avoided where possible. If unavoidable, adequate ventilation is essential.
Provision must be made for the immediate change of contaminated clothing and thorough washing should an accident occur.
Lethal Dose 50% (LD50)
The accepted method of recording the relative toxicity of a pesticide is the Lethal Dose 50% (LD50) value. Toxicity varies with the route of absorption into the body. This is the accepted yardstick used to estimate the chemical dose which would kill 50% of the test animals. LD50 values may therefore be determined for different routes of administration - the oral, dermal, and respiratory routes being of most practical significance.
Another way of expressing relative toxicity employed is Lethal Concentration 50% (LC50) value expressed as parts per million (ppm). In all cases, the higher the value for LD50 or LC50, the less toxic the material. The LD50 values quoted may be based on the active ingredient or the formulated product but not on the spray mixture. Formulating of the proper mixture generally reduces the toxicity of these chemicals considerably. Therefore the LD50 values apply to the toxicity of pesticides in their concentrated forms found in their containers.
TO FIND THE LD50 VALUE OF A PESTICIDE
Precautionary
Symbol
Signal
Word
LD50
Value
Octagon
Danger Poison
0-50
Diamond
Warning Poison
50-500
Triangle
Caution Poison
>500
A comparative classification of hazard and corresponding probable lethal dose values of technical material for a 150 lb. human adult is as follows:
| LD50 Value | Rating | Hazard |
| --- | --- | --- |
| 0-50 | High | Less than 1 tsp. |
| 50-500 | Medium | up to 1 ounce |
| 500-2500 | Low | up to 1/2 pint |
| 2500 | Very Low | up to 1 pint |
LD50 VALUE OF CERTAIN PESTICIDES
Common name
Trade name
LD50
Oral
LD50
Dermal
Fungicides
benomyl
Benlate
9590
captan
Orthocide
9000
Insecticides
carbaryl
Sevin
400-850
4000
diazinon
Basudin
108
455-900
malathion
Cythion
1375
4400
dichlorvos
Vapona,DDVP
80
107
dimethoate
Cygon
215
400
permethrin
Ambush
4000
4000
RULES FOR CHEMICAL SAFETY
Inspect pesticide containers for leaks before handling them.
Do not handle containers roughly or carelessly.
Should a leak or spill occur, keep people and animals away from the area; decontaminate thoroughly.
Do not store pesticides or empty pesticide containers anywhere near food or drink (including that for animals).
Do not keep food, drink, tobacco, cups, or cutlery anywhere in the work areas or in work clothes.
Do not eat, drink, or smoke in work area.
Do not rub the eyes or touch the mouth while working with pesticides.
Wash hands thoroughly before eating, drinking or smoking.
Wear clean rubber gloves and protective clothing when handling pesticides, and a respirator whenever recommended.
Never fail to decontaminate contaminated clothing or to discard faulty protective clothing, especially gloves.
Read the label carefully; if seeking medical aid, take the label and/or the container with you.
Pesticides should always be stored in a cool, dry, locked, well-ventilated area without floor drains.
Herbicides should be stored separately from other types of pesticides to prevent cross-contamination.
Always store pesticides in their original containers.
Ontario Ministry of the Environment and Robert St.Jean, Ottawa Orchid Society
---
How Orchids Rule Our Lives
Most adults are aware of the existence of orchids, but not that many know one to see one. My first real introduction to orchids was a leaky faucet.
I should explain that, being a university student, I found myself lacking the comforts of home, and my brother and friends occasionally built some pieces of furniture. I always gave my neighbours fair notice that I was about to be quite noisy. I soon ran out of money for my studies and went back to work. One night my upstairs neighbour came to seek my aid. He had a leaky faucet and the landlord being quite thrifty (or cheap, if you prefer) decided that he would do nothing about the situation until after the weekend (plumbers being twice as expensive on weekends in those days). My neighbour had no tools to change the old washer in the faucet and it leaked badly enough that he could not get a decent night's sleep. He remembered the noise I used to make and asked for help. I came up to his apartment and was quite stunned by the array of unusual (for me) furniture - on the centre of a little table was a dark pink Phalaenopsis. I thought that someone had a vivid imagination and created a beautiful decoration, to the dismay of my neighbour.
After fixing the faucet, my neighbour took the time to educate me in the different varieties of orchid families and provided me with a name and particulars of one of the founding members of the Ottawa Orchid Society. I phoned for the appointment to buy my first orchid.
A thick blanket of snow covered South Ottawa as I made my way to the house from the bus stop. I found the house. It was a very informative evening and I had purchased my first orchids. I went to the bus stop having held the small Phalaenopsis plants under my coat, leaving my left arm on the inside of the coat. I arrived home safely and for the next few months watched the orchids grow. My upstairs neighbour had mentioned books and meetings, but those details did not seem important then. I had made some attempts to take out books on the subject from the Public Library, but they were always out. My orchids seemed to be healthy, but not only did not produce the fantastic display of flowers I had seen upstairs, my plants started loosing a leaf now and then after growing a new one.
The problem with impromptu meetings is that one does not retain a whole lot of the information, unless it is repeated, or enforced by visual aids. My orchids looked very nice, but did virtually nothing. Where did I go wrong? I could not find the piece of paper with Sunnyside address and the upstairs neighbour had moved away. I made an effort to find the Sunnyside home and got off the same bus stop. It was early Fall. It is very surprising how different a street looks without a big hat of snow covering every house. I could not tell which was the house I had gone into. Fortunately for me one of the people I worked with provided me with a clue. She had come across the article that the Ottawa Citizen had written about the Ottawa Orchid Society (OOS). This was the salvation of my poor plants. The article mentioned a few names and it was easy enough to find M.J. Gorman in the phone book.
I called for another appointment to see more orchids. This time I armed myself with lots of information. M.J. and Nora Gorman loved to talk about the subject and OOS, which led to my joining the Ottawa Orchid Society. I was on the right way to grow orchids now! Slowly I tried different plants. Then disaster hit. The summer was quite a hot one. I overwatered some plants, underwatered others, and had too many types to keep the rules straight. I lost half my nice orchids. I resolved not to get too upset and try some types again but not in so numerous a supply. It seemed to work.
I found the Society meeting to be at a very far off location (in the days when the Ottawa Orchid Society met at the Ottawa Citizen), having had no car at the time. I wanted to take a driver's course, but my brother and dad thought that they could do as good a job as any driving school. I failed the first test because my brother's car was huge and I could not tell where the centre of the road was. On the second attempt my brother rented a tiny car without power assisted steering and I touched the bumper of the car in front of me driving away from the parallel parking exercise. By the third try, I was quite a nervous wreck and my brother had a different car, a medium sized one. When the examiner came out and seated himself beside me, I kept trying to be calm. There was something familiar about the examiner, but I was too busy to notice. Having stepped on the gas to back out of the parking spot, the car flew onto the road. My brother had mentioned that he had increased the revolutions of the engine. I looked at the examiner and explained, but deep down thought that I will never get that driver's license. The rest of the test was uneventful. I did not touch any bumpers or hug the centre of the road. Upon returning to the parking lot, I parked the car on a slight slant and asked if I can park it straight, the examiner said that it was not necessary. My heart sank. The examiner then asked me how my orchids were. All the nervous tension had gone. I could be normal again and talk on my favourite subject. As it turned out I had got my license, but to this day my brother teases that if it wasn't for the orchids, I would still not have that drivers license, though he does let me drive his car.
Now my collection is quite large and growing all the time. I have one Cattleya which I have divided so many times, that, had I kept all the cuttings, I would fill all my artificially lit growing areas. I try not to let a plant take over too much space. Probably the next acquisitions will have to be miniature! They are always stunning when in bloom, and what a marvellous object to view after a whole day of staring at a computer screen!
Barbara Wysocka, Ottawa Orchid Society
---
Orchid Species from Seed
Dendrobium margaritaceum outcross
Date of pollination: July 10, 1986
Date harvested: Mar. 24, 1987
Capsule on one clone, 9 x 11 mm. in size, had turned yellow at blossom end and was slightly split open. The second capsule, 9 x 13 mm. was green and intact. Both were flasked by green pod method. The seed was brilliant yellow-orange in colour, extremely fine, dry and fluffy. Germination was virtually 100% within 4 weeks on G&B Mother Flask Medium No. 2 (no longer available). Plants were transferred to G&B Replate Medium No. 2 after 6 months, and grown to a height of 2-3 cm. in flask. They were distributed to several orchid growers but unfortunately none of us succeeded in growing them to maturity out of flask.
Epidendrum elongatum
seed collected in Columbia
Date flasked: Apr. 12, 1987
Seed capsule was egg-shaped, 20 x 30 mm. in size green and intact. Seeds were 1.5 mm. long with a 1.5 mm. additional length of hairlike tail, off-white in colour, dry and fluffy. Germination occurred after 2 days on G&B Mother Flask Medium No. 2, and Replate Medium No. 2 was subsequently used for reflasking. A large number of seedlings were raised to blooming size, the first to bloom were 5 years old.
Phalaenopsis violacea alba self
Date of pollination: June 24, 1987
Date harvested: Apr. 6, 1988
Capsule was green and intact, 12 x 2.1 cm. in size. The seed was cocoa-brown, fluffy and free-flowing. Almost 100% germination occurred within 3 weeks on G&B Mother Flask Medium No. 2. Plants were transferred to Replate Medium No. 2 after 4 months, and large numbers were successfully raised to blooming size.
Eleanor Sweny, Northern Ridge Orchids, and Ottawa Orchid Society
---
The Canadian Orchid Congress to Meet in Edmonton
The following article was first published in the Spring issue of the Pacific Northwest Judging Region Newsletter. It is reprinted here to remind Canadian orchid society members what the COC is all about.
Many U.S. orchid growers may not be aware that Canada has an organization parallel to the America Orchid Society.
The Canadian Orchid Congress (COC) was founded and held its first meeting in Vancouver, B.C. in 1988 in conjunction with the Vancouver Orchid Society's annual show. The COC arranges its annual general meeting to coincide with the show date of a member society, on a rotating system, across the country. The chosen society is to host the COC meetings with an AOS-sanctioned judged show. The event also includes procedural and planning meetings, as well as lectures by prominent local or international specialists in a variety of aspects of orchidology.
Past congresses have been held in Ottawa in 1989, Hamilton in 1990, Calgary in 1991, Toronto in 1992, Nanaimo in 1993, and Winnipeg in 1994. In June of this year, the meetings will be held in Edmonton, Alberta.
The COC is Canada's umbrella organization for more than twenty affiliated societies, and acts on their behalf in a range of efforts and activities which includes the following:
Consulting with the Federal Government concerning the application of C.I.T.E.S. (Convention on International Trade of Endangered Species) to orchids in Canada.
Facilitating the exchange of pollen and seed among orchid growers by maintaining a list of orchid species owned by Canadians and available for breeding. This information is kept private, and the COC acts solely as the liaison.
Sharing news about conservation of orchids, particularly native species.
Arranging speaking tours for prominent orchid growers on behalf of the member societies. Sheldon Takasaki of Carmela Orchids, Isabel Bert of Lecoufle, and others have participated in these tours, which enhance orchid growing across Canada.
Producing video tapes for member societies to use as programs or to lend through their libraries. Two such taped programs have been produced so far. The first is by George Vazquez on Phalaenopsis, and the second is on the Purdon Fen, a wilderness range in Ontario.
Producing a newsletter which contains original orchid-related material for affiliated societies' use.
Supplying one show medal per year for all member societies, to be used in their annual shows as an incentive to quality displays.
The COC has recently released three publications for use by member societies:
A standardized show schedule to be used by societies hosting a COC function. It is hoped that this schedule will be used by all societies across Canada.
A list of all Canadian orchid growers who wished to be included. The information includes their names, addresses, phone numbers,speciwdes, and information about catalog availability and visiting hours.
A list of affiliated societies with contact persons and important dates such as shows and monthly meetings, for use by orchid growers for use during their travels.
These publications are available through society libraries and at COC/AOS information tables at meetings and shows.
Information regardingthe June meeting in Edmonton is available from Irl Miller, 13605-136A Avenue, Edmonton, Alberta, T5L 4B9.
Ken Girard, Foothills Orchid Society, Past President of the COC.
---